We have been selling on Amazon for more than five years and have used a lot of different tools while doing it. Only a few years ago you could perform keyword research,
Amazon product research
, and other duties using different tools. Therefore, to properly manage your Amazon FBA business, you had to sign up for various tools— what a headache indeed. Several solutions are available today for your Amazon FBA business attempting to do everything, so choosing an ideal tool for your company may be challenging. In this blog post we are doing an in depth
Helium10 Google Chrome Extension review.

Watch Our Helium10 Google Chrome Extension Tutorial Below
Helium10 Google Chrome Extension Review
There's over 700 000 active Helium10 users. Why do you think is that? It's because it really is one of the best tools for your Amazon FBA business. In this post, we will discuss every aspect of Helium10 Google Chrome Extension and ensure you get the complete overview before buying it.
When Helium10 launched years ago it only had few tools that you could use for your Amazon business but in the recent years they have really stepped up their game. They have been adding new features and tools to the software consistently. For example they have added Alta by SellerFunding which offers lending for Amazon sellers. With Alta they offer working capital, daily advance and VAT services. Most sellers use it for lending. Getting additional capital for your business when it's growing can really be a game changer when you are selling on Amazon. Mostly because when your sales are growing you just need more money to fund your business because you need to make bigger and bigger inventory orders.
They recently came out with Amazon PPC academy which is a separate online training to learn how to manage you PPC. Usually programs like this cost around $1000 minimum but it's also included with Helium10 monthly plan. A lot of people struggle with their PPC because it's getting more complex. It's not just pressing start button and your ads start running profitably. You need to do your keyword research before that and setup of your campaigns the right way and then come up with a strategy. It's not something that you setup once and it runs while you are selling on Amazon. You need to monitor your campaigns all the time and make sure you business is benefiting from Amazon ads.
They have over 20 different features what come with their monthly plan. So you really get a lot extra things if you start using their Google Chrome Extension for product research.

I can't recall how long we have been using Helium10 for our businesses. Probably more than three years have passed so far. It's truly among the best Amazon software tools on the market. You can use it for various tasks, including keyword research, Amazon product research, stats, management, etc. 
How Much Does Helium10 cost?
Helium10 has different price plans. We are using the Platinum plan ourselves and are we satisfied with it. Use the link in this post to get a discount for your plan. You might be wondering if the price is justified and is it worth it? Compared to other similar softwares the price range is about the same. Some might be little cheaper and some more expensive. But we have not seen a software where you get more value with your monthly plan. You can also save 25% if you sign up with their annual plan.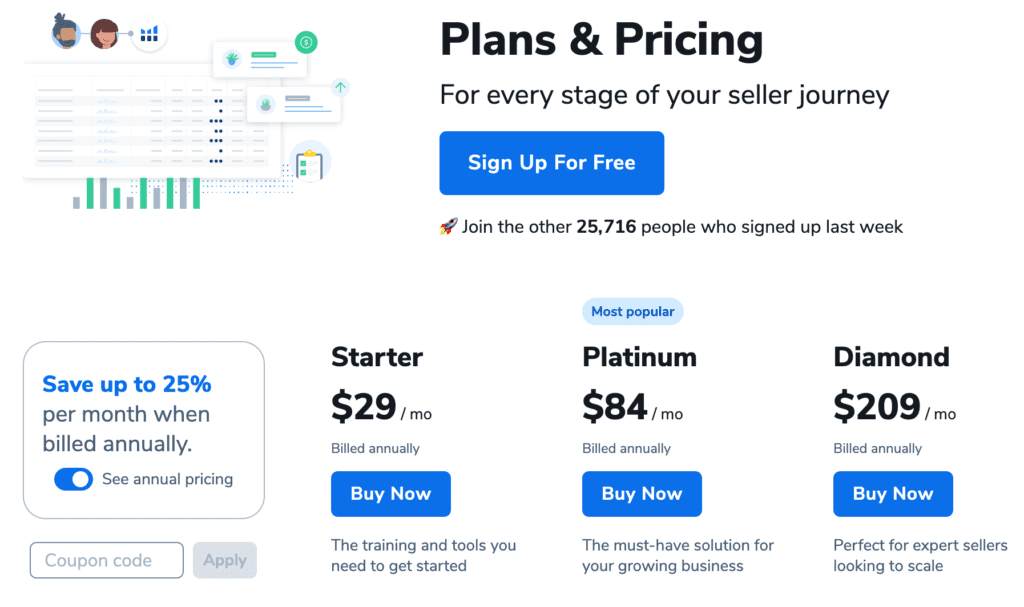 Why Do You Need Helium10 Google Chrome Extension?
To start selling on Amazon, you must first do proper product research for your Amazon FBA business. You need to go into the details and look at a lot of data to make the best decision for your business, otherwise there's a big change that your product research might fail. For that you need to use a tool that helps you.
Helium10 google chrome extension is a data analyst for your product research on Amazon. Imagine if you could see for how much certain products are selling a month, day or year if you walk into a regular grocery store. You could also see the level of competition and customer feedback. Would that be helpful for you? Of course! You could better spot opportunities and find products what to sell yourself.
This is exactly what you can do now on Amazon and even better because Helium10 has developed so much in the recent years. You can scan pages on Amazon and see exactly for how much certain products are selling for, how many reviews they have, sales history and lots of other things.

How to Do Product Research on Amazon?
First, analyze a lot of data when looking for what products to sell on Amazon. Since it is impossible to do it manually, you need a particular tool– this is where Helium10 comes in. Helium10 Google Chrome extension has proven excellent results for product research and various other tasks.
How Does Helium10 Google Chrome Extension Work?
First, to have Helium10 within your chrome, you must add it to your browser extensions and run it. Helium10 is very easy to use. After installing the Helium10 Google Chrome Extension, you can launch it on your Google Chrome browser when on Amazon. After that another window pops up where you can see all the data.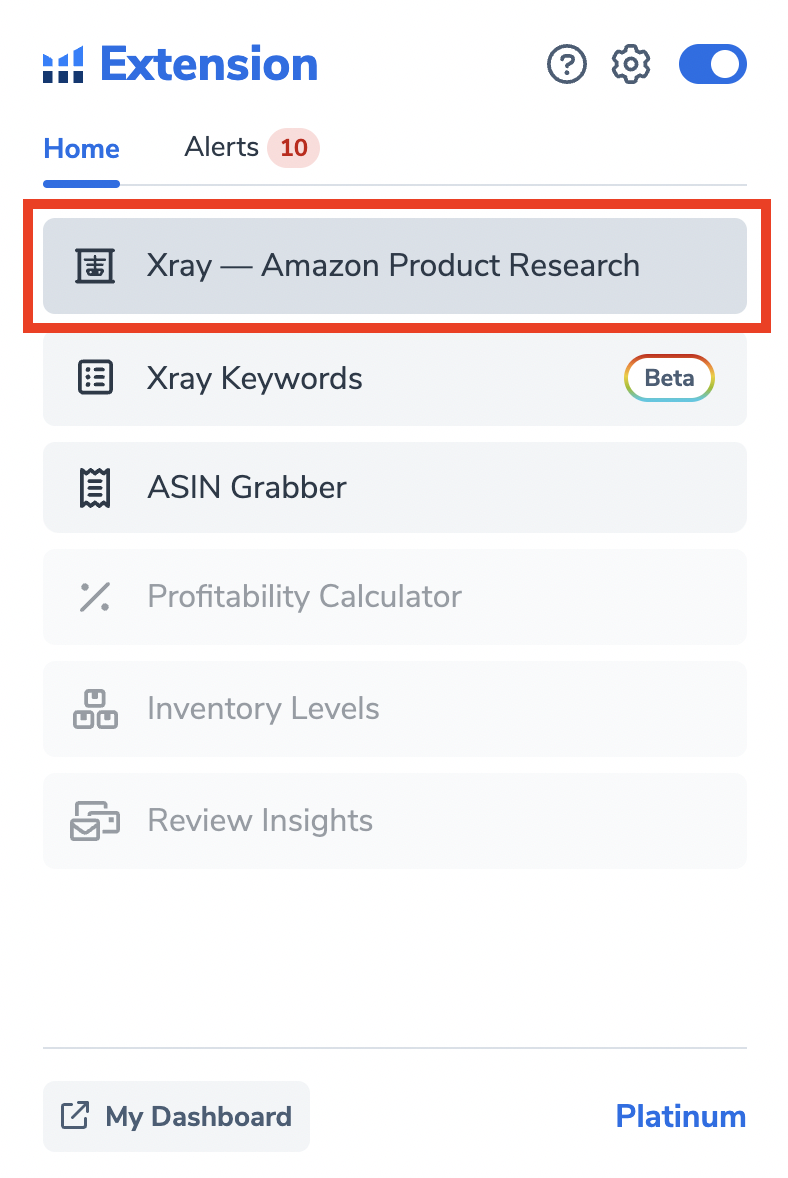 For example, as we did below, we started searching for a  "cool product." Once you open and run the extension, you will see a lot of information and product listings under the category you searched. From there, you can choose what product you want to take a deeper look at. Then you can do a Cerebo search for the best seller and see what are the search volumes for the keywords where they rank the best. This way you will see what are the main keywords they are ranking for. These are probably the main keywords with what they are getting the most sales as well. Then you can compare different "main keywords" and see if there's an opportunity for you as well.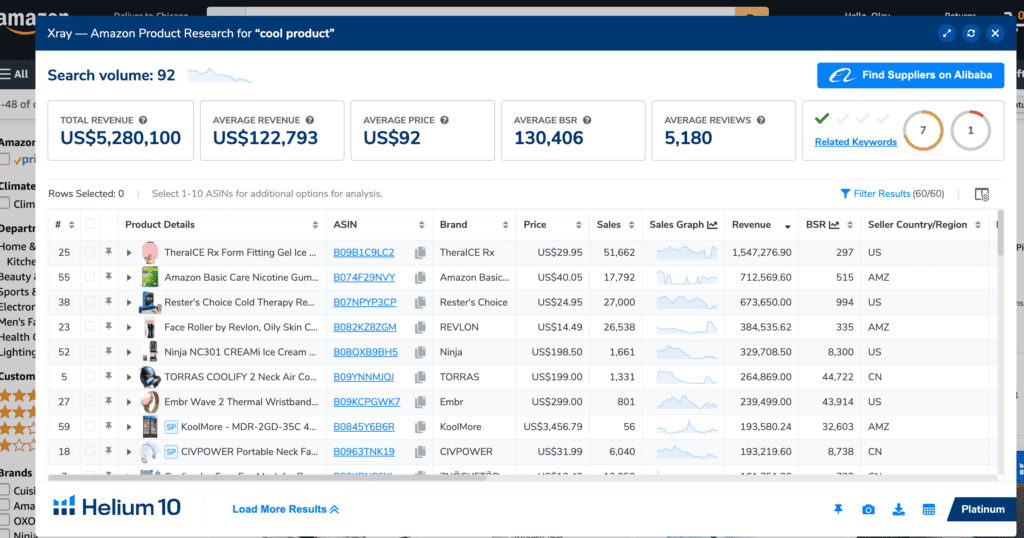 Let's go over all the small details that Helium10 shows us one by one but let's skip the basic things like the Brand name, price, and ASIN number and move into the more important stuff.
12 Important Things to See When Using Helium10
Sales Graph A sales graph is an excellent tool because it shows you quickly the following: – Is the product seasonal or not? – Determine if the sales trend is increasing or declining. – Find out how many of a particular product are sold each day and how long it has been on the market. – Identify when the product is more sellable in terms of season, time of the month or year, and if it sells well during Q4. – You could also download and analyze all that data as a CSV or excel file.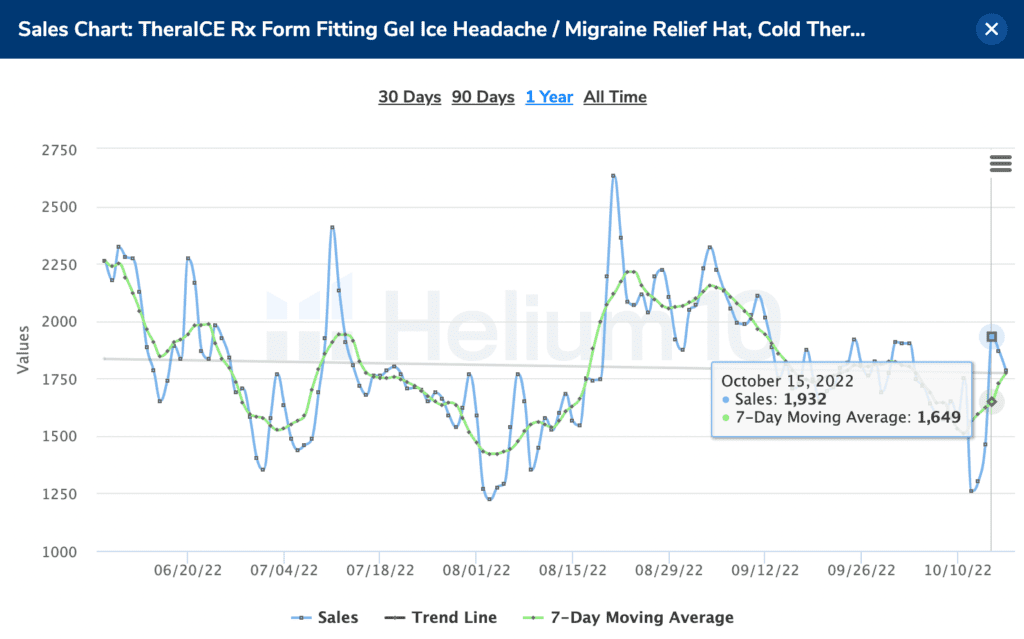 Revenue With the help of Helium10 Google Chrome extension you can see products monthly sales on Amazon. With this available feature, you can easily track which products are selling or not. Moreover, you will have an instant preview of products revenue as you open and run the extension.
BSR The higher the BSR the better the product is selling for.
Seller Country/Region This feature is a great way to see who you are dealing with when selling on Amazon since there are a lot of international sellers on Amazon.
FBA Fees You will also see the estimated FBA fees per product. Remember that the FBA fees provided depend on the product size, weight, price, and category where it's listed. Also, for accurate results, always double-check this with the Amazon FBA fee calculator before deciding for a product.
Active Sellers If you are launching a private label product on Amazon then you'd be the only seller for that product on Amazon. But if you'd do wholesale or sell a product that everyone could sell then there would be multiple sellers for that item.
Ratings Each product has a rating on Amazon, and you can sort products by rating score. It is a great way to find low-quality products but do well in sales. This way, you could try improving that product and get these sales.
Review Count  Review count is one of the most important metrics you need to look when looking for the product to sell on Amazon. You should look for products that have a low number of reviews and a decent amount of sales.
Images Helium10 Google Chrome extension shows how many images certain products have on their Amazon listings. This feature is helpful to see on one page because you don't have to look at all these listings individually. If there are product listings with few images to show, it may be a sign of opportunity for you to sell the product and engage with it even more. If you'd like to read how to take Amazon product photos then read this post here.
Review Velocity This shows how many reviews they have received in the last 30 days. If that number is high compared to the sales then that might be a sign of review manipulation.
Buy Box This simply shows who owns the buy box on Amazon.
Size Tier This shows right away in which size category the product is selling. This is great information because different size categories have different Amazon FBA fees. Also oversize products have higher FBA storage fees. Especially during Q4. That could really eat your margins if you don't plan your inventory well enough.

You can also see the total revenue of the products that are displayed on Amazon. This is a good number to see the total market size.
Actually all these average numbers are really important because it helps you to get a better look at the market right away. You can see the average price and average reviews. Obviously for our example "cool product" 6278 reviews is very high. I'd not try to capture that market.
You can also see the search volume. As you can see, the search volume is 92. It's very low. It's just one small keyword.

The Game Changer: Helium10 Google Chrome Extension Xray Keywords
You can look at products on Amazon in two different ways. You can analyze the products, and compare sales and reviews or search volume and competition. Which one would you choose? I'd look at both things when looking for a product to sell on Amazon!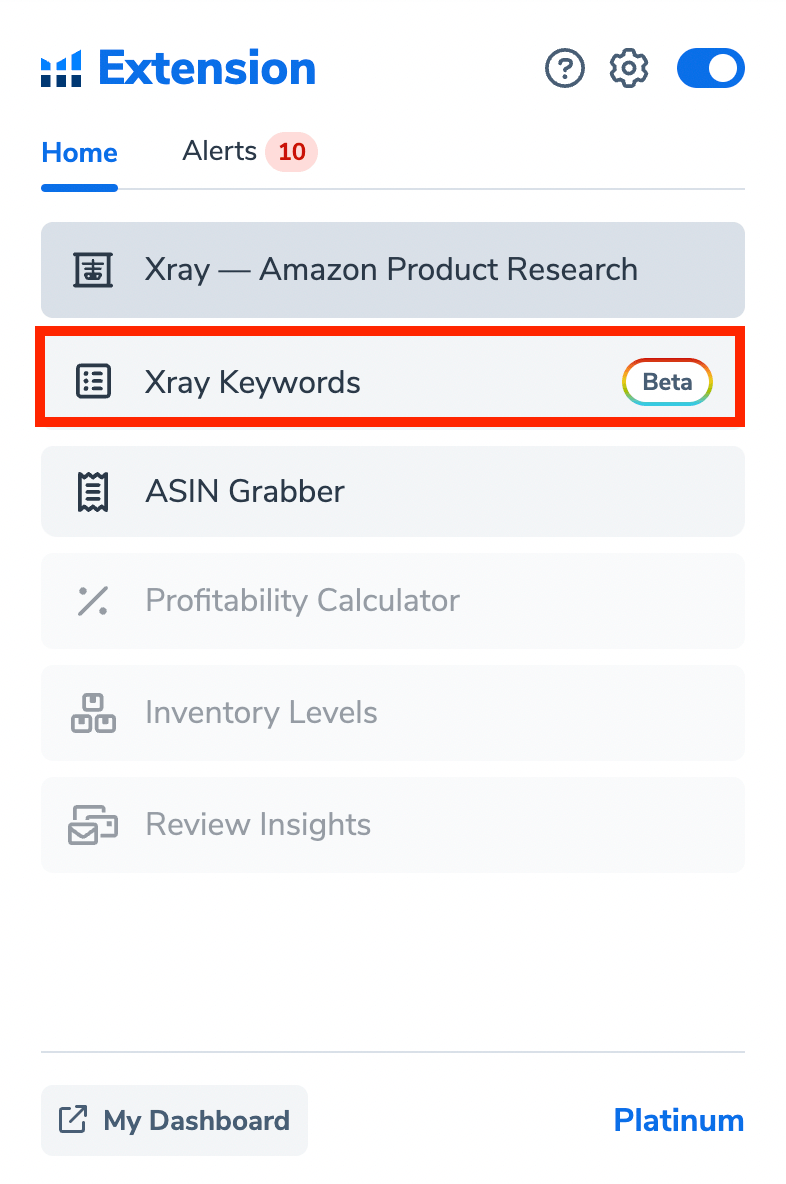 Xray keywords let you see the search volume of the products on that page and a Cerebro Score.
Original Cerebro IQ Score is a score that shows how good of an opportunity a certain product is. The higher the number, the better. The score is based on a ratio of search volume to competing products.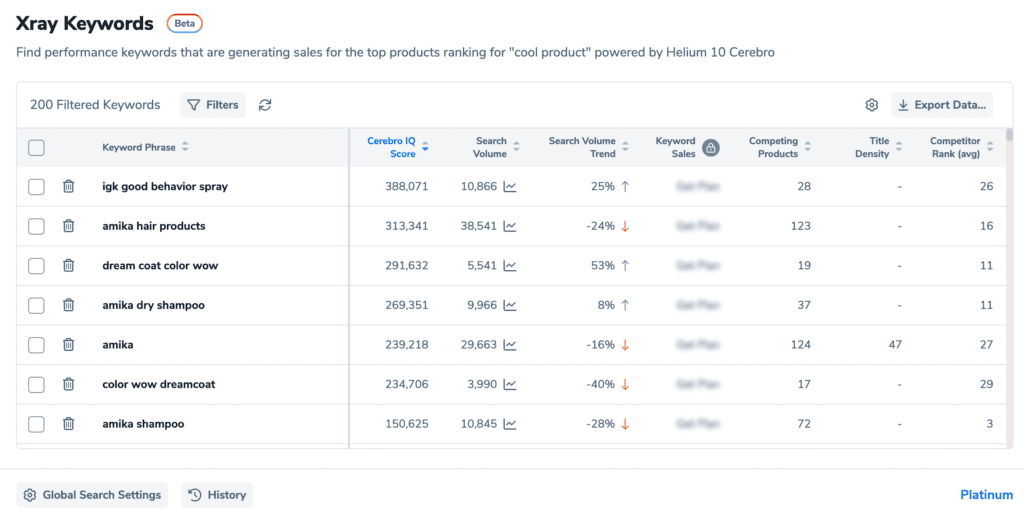 ASIN Grabber With Asin Grabber you can simply grab multiple ASIN-s at once and run them on Cerebo.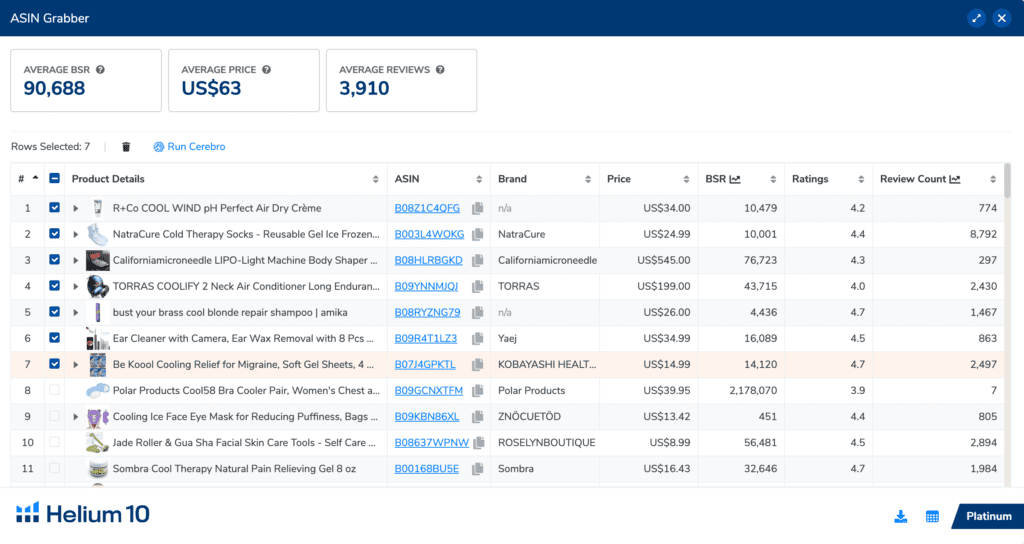 When you do so and use ASIN Grabber, you will discover a large number of keywords that you may filter and analyze as you choose. It is quite practical and helps you save a ton of time. Traditionally, you had to do each step one at a time and even use various tools, but now you can complete them all in one location thanks to the Helium10 Google Chrome Extension.

When you are browsing for products on Amazon after installing the extension, you will also see the following display. You may perform an extensive keyword analysis, add the product to your list on Helium10 or run it on Cerebo with only one click, and view the sales chart and predicted profitability.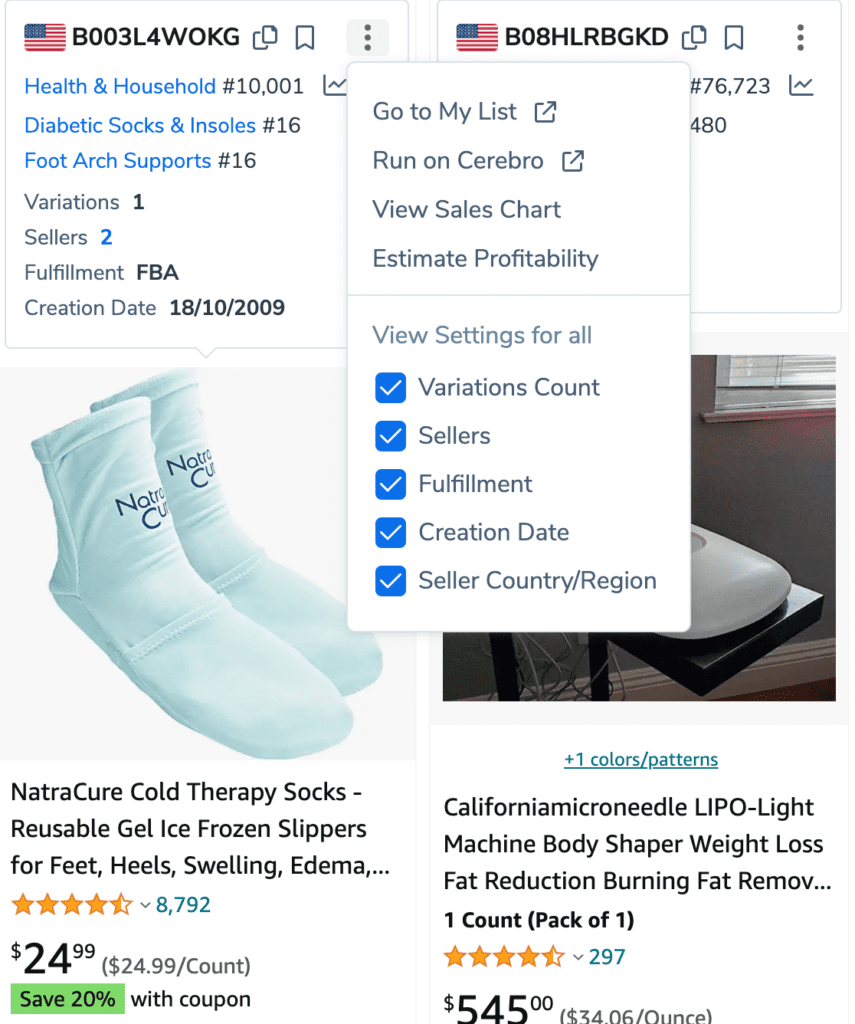 Helium10 Profitability Calculator
Profitability calculator helps you calculate your profit margins for Amazon. When you click on it shows you the following view. When you open it the first time then you probably don't know yet the final product landing cost on Amazon. For that you need to contact a supplier and ask for manufacturing costs. You can find different suppliers on Alibaba or just from google. Most Amazon sellers use Alibaba to find suppliers for their products. Whenever you are looking for suppliers, always ask quotes and samples from multiple suppliers. The same applies when asking shipping quotes.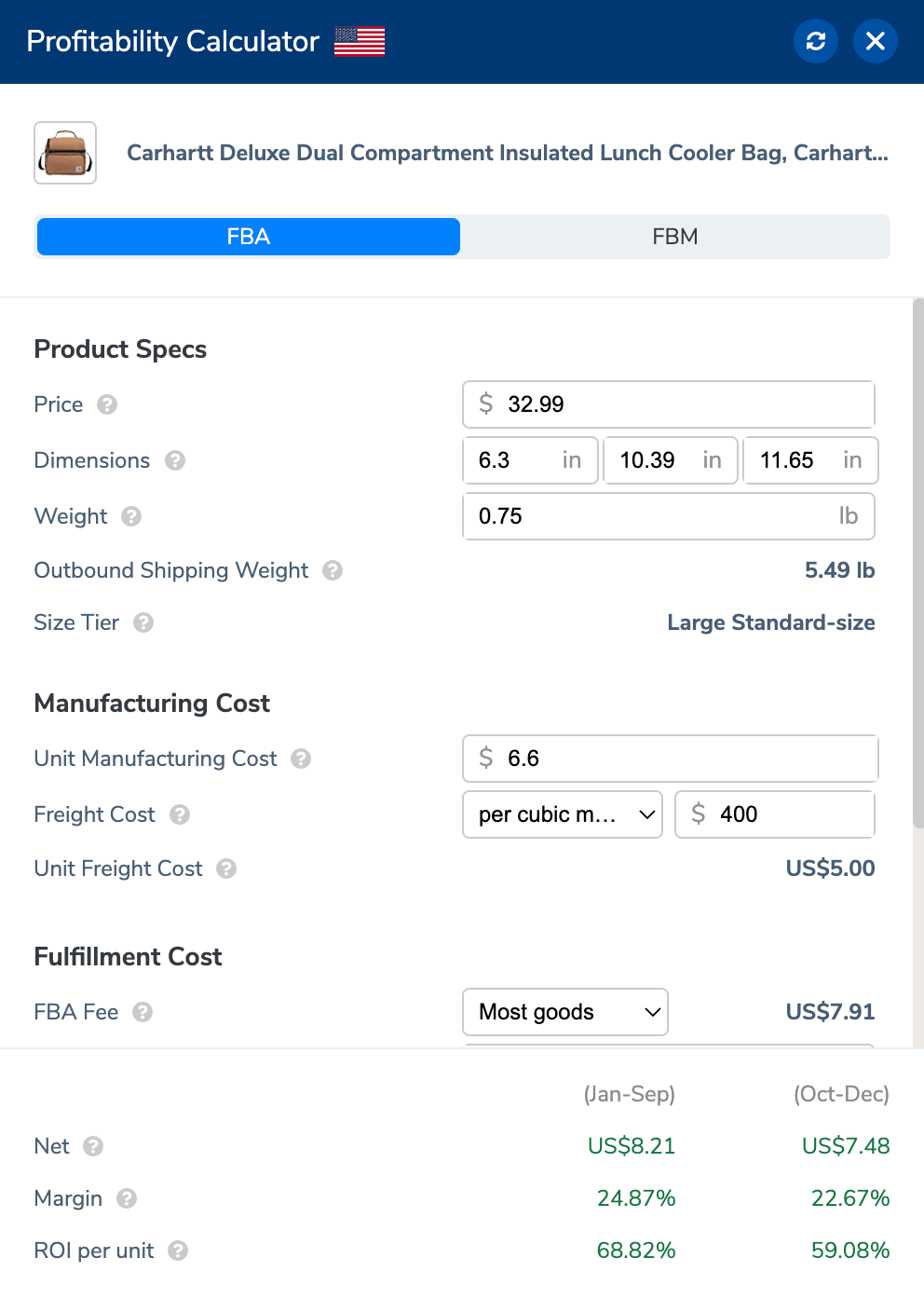 How to do Keyword Research for Amazon Product Listing?
We've previously covered a little about Cerebo. Cerebo is a fantastic tool for determining which keywords your competitors are ranking for on Amazon and which keywords have the least amount of competition. To do a keyword research you'd have to run Cerebo on your competitor listings and find all the keywords that come up. Then really narrow down and keep the keywords that are most relevant to your product and have the most potential. You can do that by analysing the level of competition for each keyword.

How to use Helium10 for Amazon PPC
The same applies to Amazon PPC. Using Cerebo to do keyword analysis before launching your PPC campaigns is excellent because you can only target keywords with the least amount of competition. Most of the time,  Amazon PPC is very expensive. In some categories, you need to pay $3 per click. In this case, you need to find cheaper keywords if you don't want to do that. Cerebo shows you the competition for each keyword, meaning less competition, means less money for clicks.
Where We Use Helium10 in Our Amazon Business the Most?
The most we use Helium10 google chrome extension. We do that even when we are not looking for new products. We use it to see how our competitors are doing on Amazon. You need to know if their sales are growing or declining and how they are doing in generally.
We also use Helium10 to see how we are ranking for specific keywords. This is a great feature by Helium10 because then you can see how you rank for specific keywords from one dashboard.
We also use Cerebo all the time to see what are the keywords we should target for ranking and also to see for what keywords our competitors are ranking on Amazon.
These are the main three things we use by Helium10. Of course we use all of their tools all the time but these are the ones we use the most.
Is Helium10 Google Chrome Extension Worth it?
We've used most of the tools that are available for product research on Amazon. The Helium10 Google Chrome Extension has numerous additional features that make it stand out from the competition. You may carry out keyword research, browse for items what to sell on Amazon, keep tabs on your rivals and discover which phrases they are using to drive traffic, among other things. The list is lengthy. You may read more about the best product research tool for Amazon FBA in a separate post we have prepared. We'll go into greater depth on how to use Helium10 to do product research on Amazon and why it's essential.

We hope you liked our Helium10 Google Chrome Extension Review and get it for your business because as you know already by now –  you need it to start, run or scale your Amazon FBA business to another level. If you have any questions about selling on Amazon then feel free to leave a comment below or send us a message.