Amazon has grown a lot and has become huge in recent years. People are buying everything on Amazon. You might be wondering is it right time to start an Amazon FBA business or is it too late for you? Let's go over some facts and stats so you understand better.
Best time to plant a tree was 20 years ago. Second best time is today. 
Honestly, that's the best advice I've heard in my life when you are thinking about whether you should do something or not. Of course the timing could have been better. Timing can always be better but that doesn't mean that with current timing things doesn't work out. 
Is selling on Amazon saturated?
According to Marketplace Pulse Amazon has over 6.3 million sellers and about 1.5 million active sellers on their platform. Is that too much? Well, Amazon is the biggest shop in the world whose demand is growing worldwide. More and more people are shopping online. Especially during the pandemic and fear of going to the shopping centres. 
1.5 million active sellers might seem a bit too much but let's also look at some other numbers. 
Amazon has over 200 million active Prime members who spend an average of $1500 a year on Amazon. Non Prime members spend an average of $600 a year. 
Amazon ships an average of 1.6 million packages a day, 66 thousands orders an hour and 18.5 orders per every second. 
Amazon ships products worldwide and has about 175 warehouses all over the world, making it the leader in the industry. 
As you can see that 1.5 million active sellers might seem a lot but the market is also quite big. Also the people who are growing up now are more used to buying things online. So in the next 10 years e-commerce is going to grow even more. 
Amazon is still growing like a wildfire as you can see from the graph below. Do you think that it will stop growing and the numbers will decline in the next 10 years? We don't think so.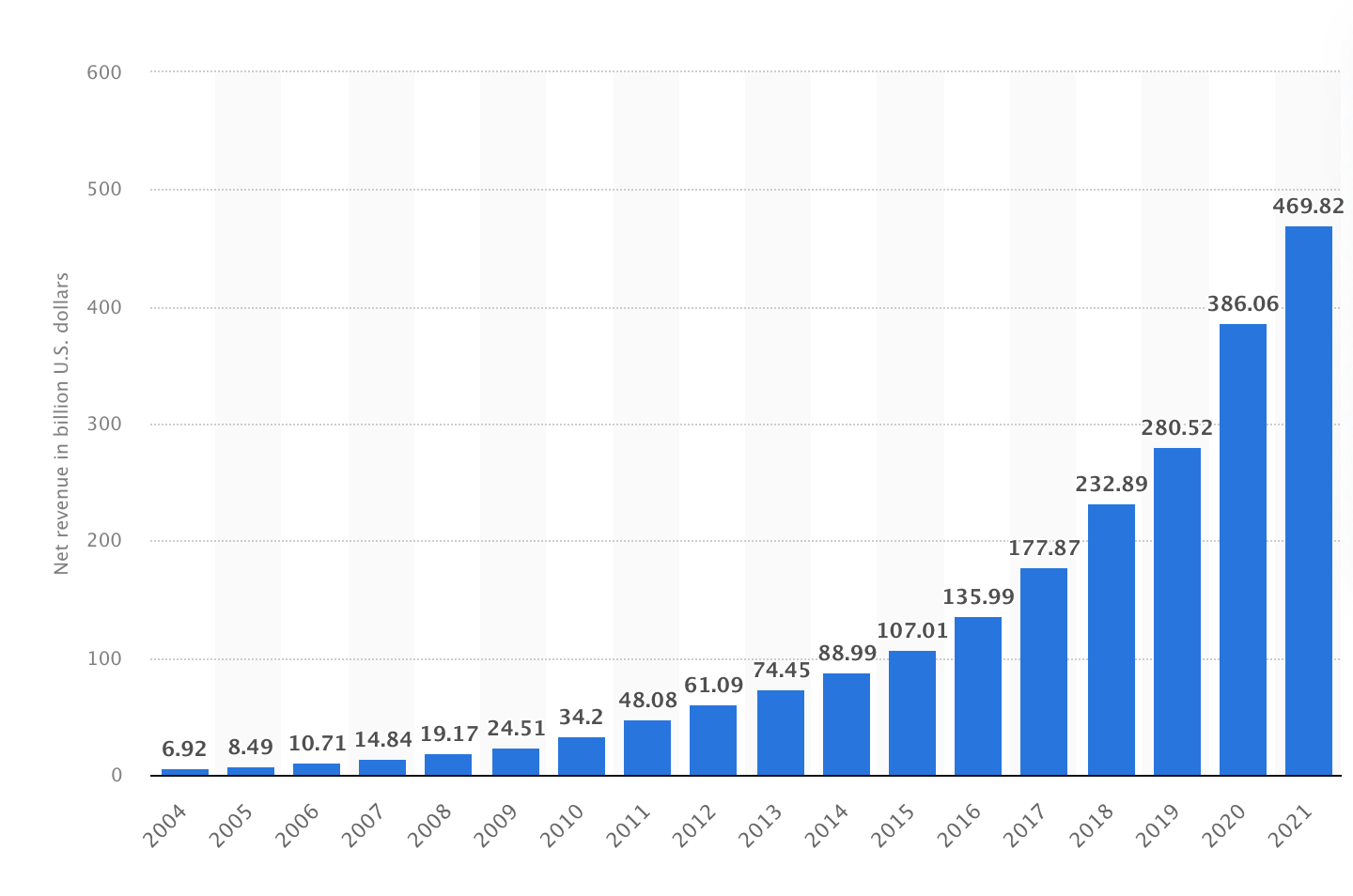 Why do people prefer online shopping to regular stores?
Another important thing is to look at the overall trend of people's habits and why people prefer shopping online?
There's a better selection of products when shopping online. When you go to a regular store then usually you have to choose between a few items and then pick the one you like. You might not even like it but you have to choose it because there's not much of a selection to choose from. Shopping online offers better selection and usually better prices. 
Most of the e-commerce stores offer free shipping and returns. Over 50% shoppers list this as one of their biggest reasons why they shop online. 
It's easier to find products. Let's say you want a red cat collar with stripes. Do you imagine going to a regular pet shop and looking for that or a water hose connector that matches your water hoses and there's no hardware stores close to you? You could just simply go to Amazon.com and type that to the search bar and explore hundreds of options with lots of different colours. 
Customer reviews. One of the main factors when deciding for a product is product reviews. People can see other customers' experience when deciding on a product. 
Top Reasons for Internet Users to Shop on Amazon?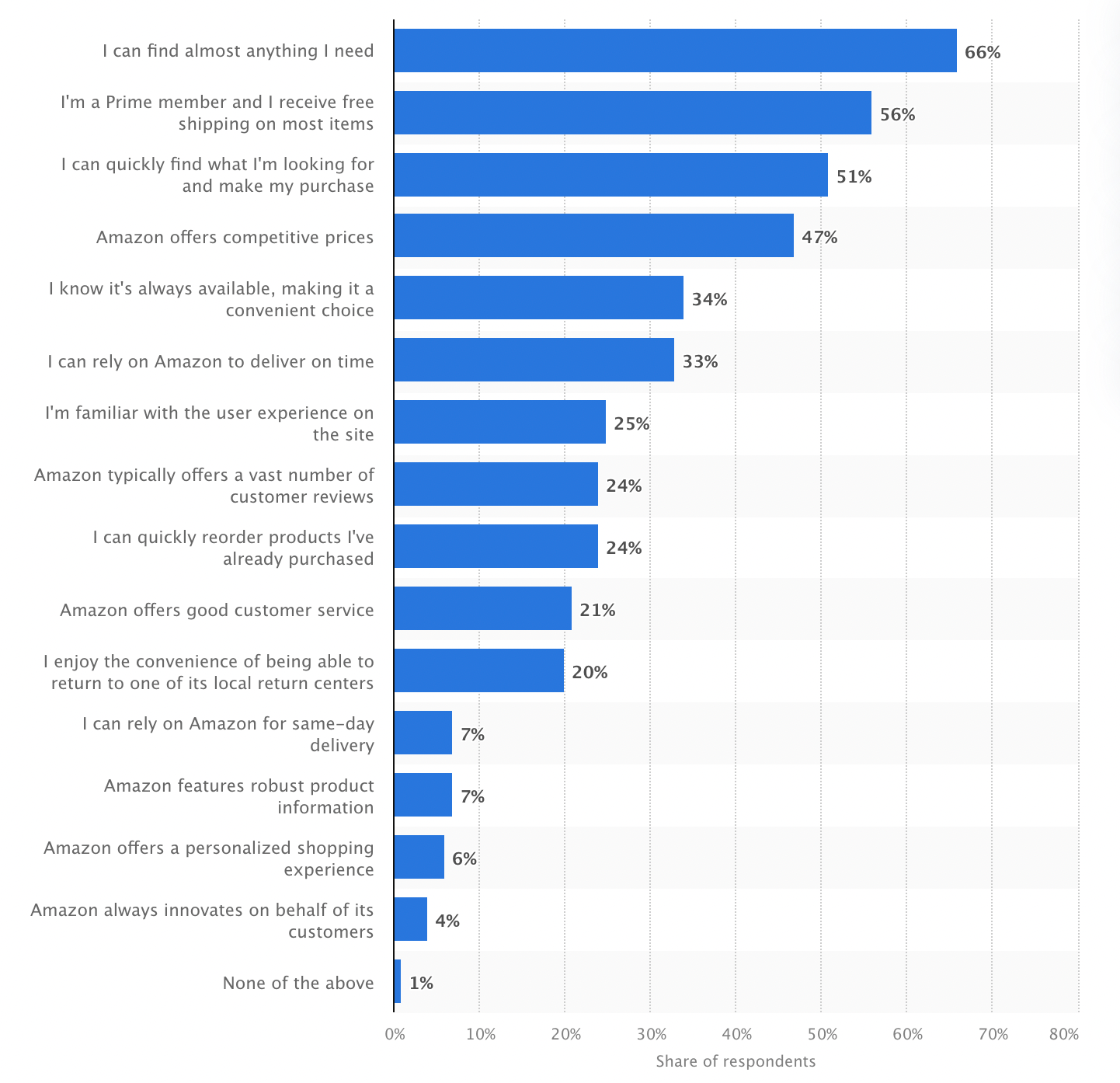 This statistic presents the reasons that online shoppers purchase on Amazon in the United States as of September 2021. According to the findings, 66 percent of surveyed respondents stated that their main reason to shopping on Amazon was due to the availability of almost anything they needed. Additionally, 56 percent reported that free shipping offered with Prime subscription was their primary reason for shopping. (Statista)
Market share of leading retail e-commerce companies in the United States as of June 2022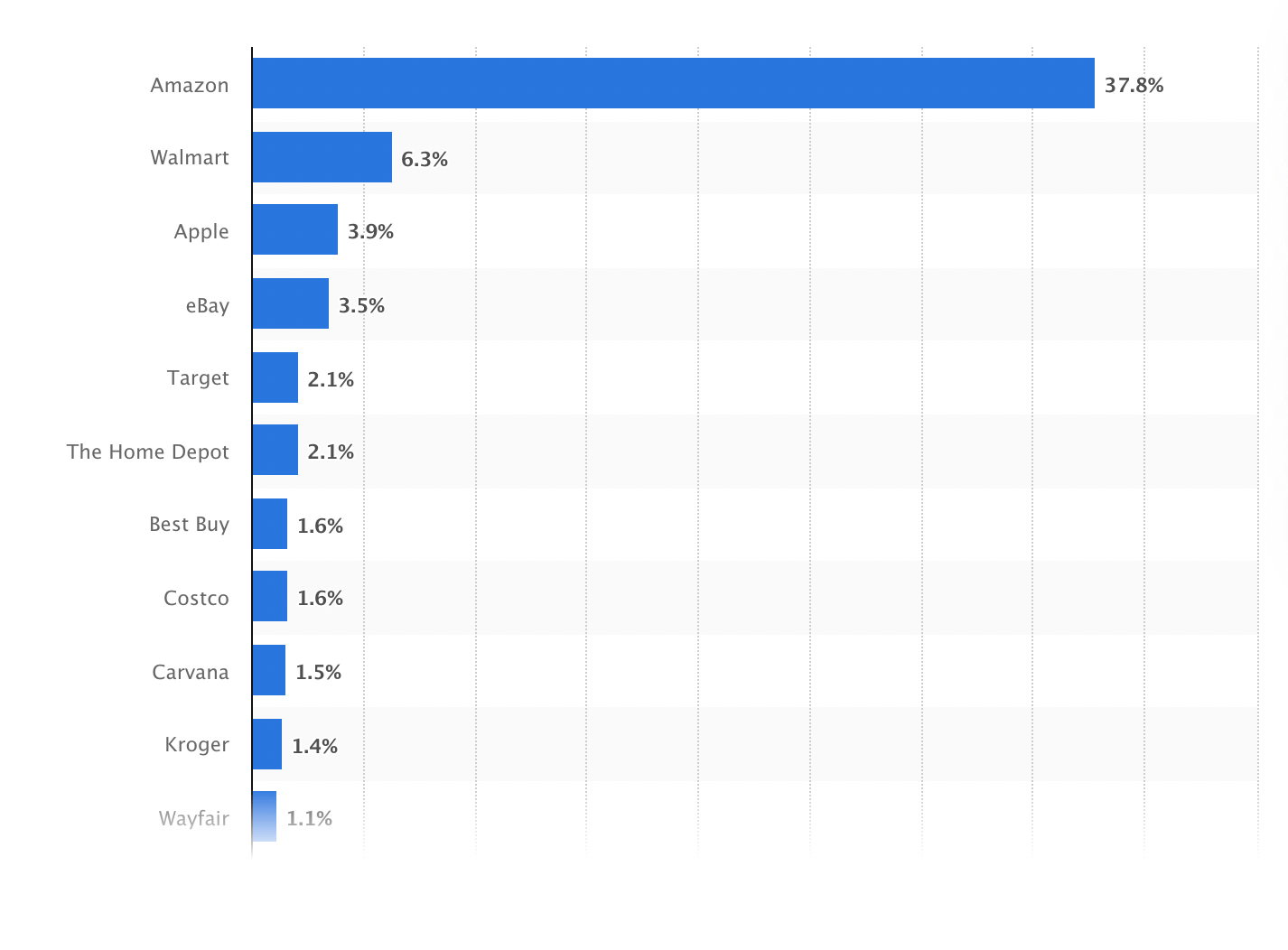 As you can see from the graph then Amazon had by far the biggest market share in the e-commerce industry. Almost 40% of all purchases are made on Amazon. 
How to catch a trend? 
If you want to catch a trend in the beginning then you'd need to jump on it when it's not popular yet. If we are talking about selling on Amazon then if you wanted to be early then you should have started selling on Amazon in 2012. In the early days Amazon was not as attractive an opportunity as it is today. Most people would not have started selling on Amazon 10 years ago. 
Online shopping is here to stay. It's not a boom that fades away. It's a trend that gets bigger, better and more convenient with the years. The real question is… Do you want to take part in it?
Of course it's now harder to start selling on Amazon than it was a few years ago but you could say that about any industry. There are people who start selling on Amazon and become successful every day. There are also people who start and fail. 
How to become a successful Amazon seller?
There are several things you need to do right when you want to be a successful seller on Amazon. Starting from picking your niche, doing product research, finding suppliers and lots of other things. At Guideline Hub we have written lots of different posts about these topics that can help you a lot. 
How to do product research on Amazon?
What are Amazon FBA business setup costs?
What products to sell on Amazon?
How to start an Amazon FBA Business?
Best product research tool for Amazon FBA
How to take Amazon product photos and dominate?
Helium10 Google Chrome Extension review
7 things you need to know before starting an Amazon FBA business
Is Amazon FBA worth it?
As you probably understand from this blog post, Amazon FBA is worth it but you need to take this business very seriously and pay great attention to details. You also need to be patient and give it some time. If you read stories online about how people started selling on Amazon and became overnight success then understand that it does not happen for most of the people. Of course some people launch their first product and it becomes an overnight success but you should consider right away that you probably need to launch more than one product to be successful. Having that mindset right from the start helps a lot in the long run. 
How to set up an Amazon FBA business?
To start an Amazon FBA business you need to register your seller account with Amazon. You could start selling in the USA, Canada, Australia or in the EU. Most people start selling in the USA because it's the biggest market. We have also written another post about what are Amazon FBA business setup costs. Make sure you read that as well. 
What is Amazon FBA business?
Amazon FBA means fulfilled by Amazon. This means that we ship products to Amazon warehouse and every time we get a sale Amazon fulfils it and ships to customers. This model is very good for scaling fast because you could easily sell 10 units a day or 1000 units a day.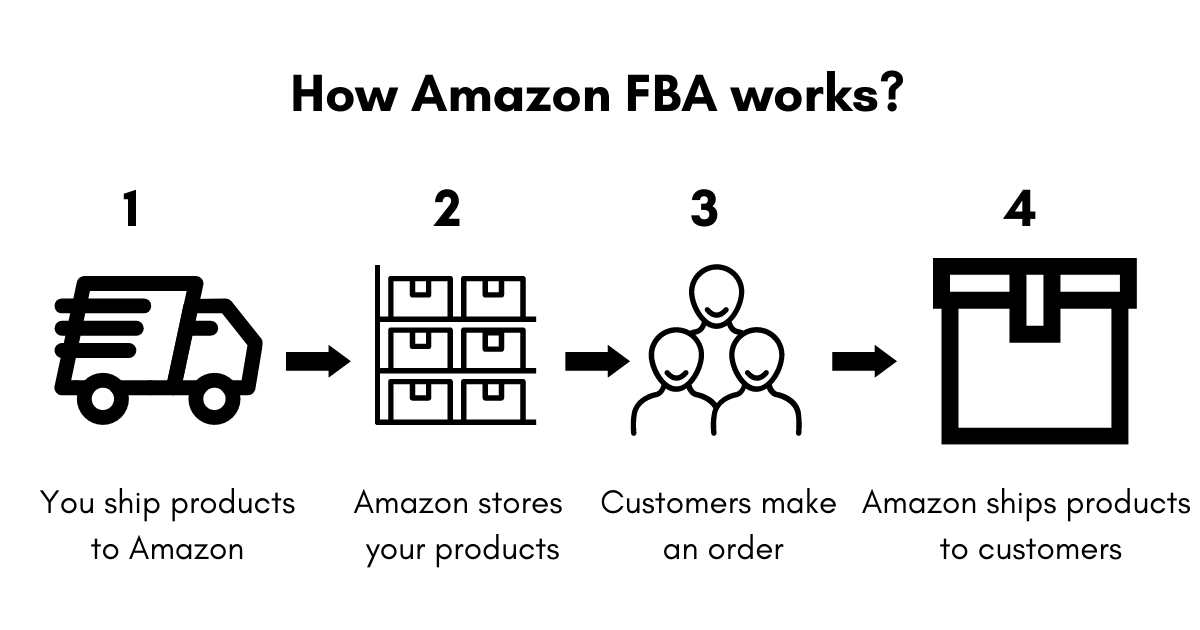 Is it right time to start an Amazon FBA business Conclusion
As you know by now then the best time to start something is today and second best time was yesterday. You can still be successful on Amazon if you follow the right steps and do everything correctly. At Guideline Hub we are focused to give you the information you need to do it the right way.
We hope that you got some value from this post and know the next steps you need to take so start your Amazon FBA business. If you have any questions while starting your Amazon FBA business then feel free to send us a message or leave a comment below.