When you have just found a product to sell on Amazon then the next step you need to do is your keyword research on Amazon. We'd recommend you to do it even before you make your final product order. You might be wondering why is that? In this blog post we are going to talk about how to do keyword research on Amazon, why it's important and how to do it the right way!
Before moving forward also make sure you check some of our other posts that are really helpful for your Amazon FBA business as well. For example:
What are Amazon FBA business setup costs?
How to start an Amazon FBA business (2023 update)?
How to do product research on Amazon?
Helium10 Google Chrome Extension review
How to do Amazon posts like a PRO?
Best product research tool for Amazon FBA
How to do keyword research for Amazon FBA?
One of the best ways to do Amazon keyword research is with Helium10 Cerebo and other tools with what you can analyze competition on Amazon and lots of other things. We have also created a video about it that you can watch below.
Why is Amazon keyword research important?
It's important because you want to be sure that there's enough search volume/demand (interested buyers on Amazon) and the keywords aren't too competitive. Otherwise you will not rank on Amazon as expected.
Keyword research for your product listing on Amazon is also important because with the right list of keywords you can optimize your product listing the right way. It's basically the ground work you need to do before choosing the product. When you analyze hundreds of keywords that customers are searching on Amazon about your product, you will also learn a lot of things about your product. You will see the exact search terms customers are using when looking for a product.
What tools to use for Amazon keyword research?
One of the best tools for Amazon keyword research we have been using is Helium10. It's very easy to use and lets you find hundreds of keywords in seconds. To use it you need to install Helium10 google chrome extensions and simply open Amazon.com. Then these additional plugin with show up. Simply open few of the best sellers in your category and click Run on Cerebo.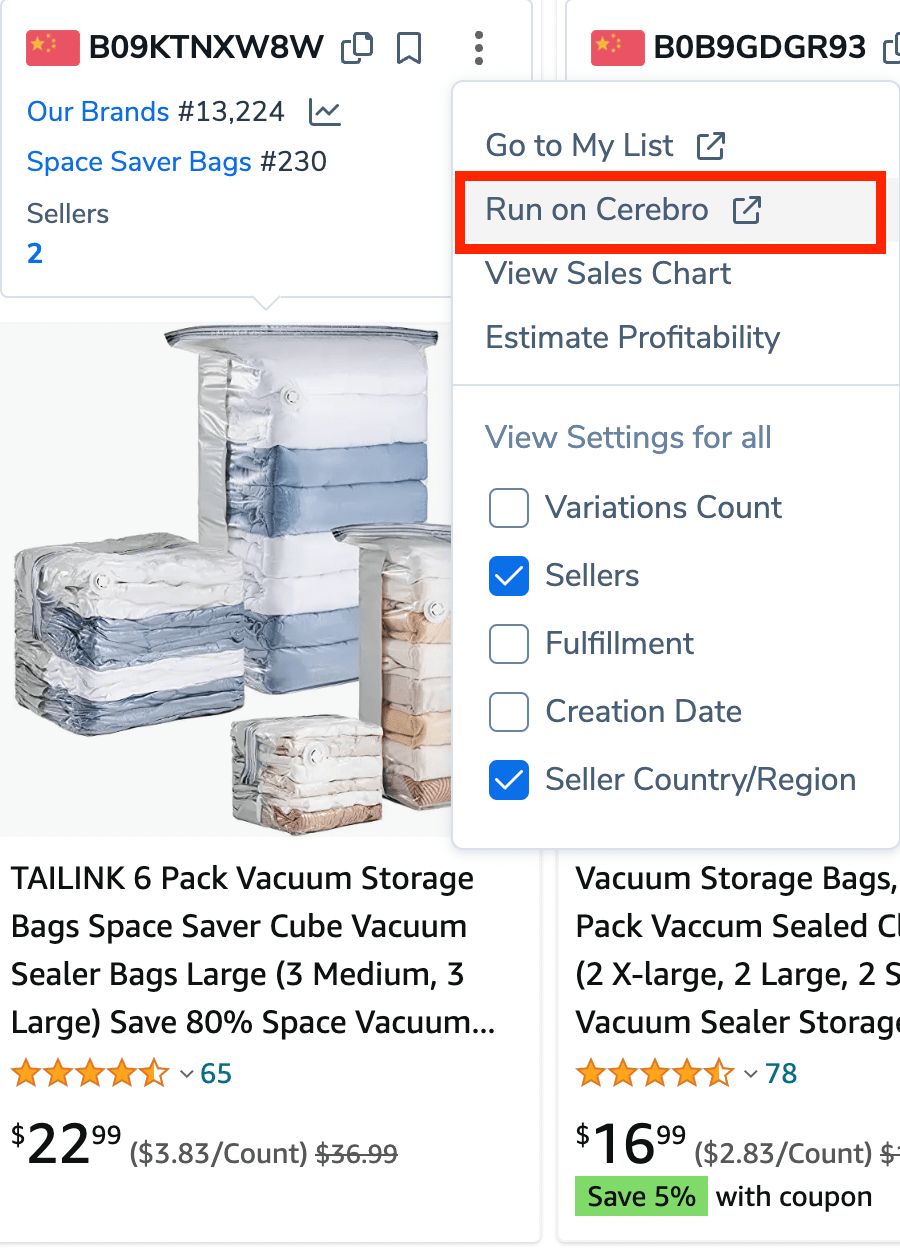 After that the tool will direct you to Helium10 Cerebo results as you can see below. It found total of 795 keywords that are somehow related to that product. You can scan through them all and sort them the way you like. For example by search volume, ranking, competition etc.

There are also additional filters that you can use as you see below. This is really good because you can instantly find low competition keywords.

By using this you can sort keywords according to competition, search volume, organic ranking etc.
To get the best results for your keyword research on Amazon we'd recommend you to do that for all the best sellers in your category and find the exact keywords they are ranking for.
Make sure you also check the keywords that are not with very high search volume. These could be the low hanging fruits from what you can get easily some additional sales.
How to keyword research for Amazon PPC
You can use the same method to find keywords for your Amazon PPC campaigns. We have written another detailed blog post about how to grow sales with Amazon PPC. Make sure you check that out as well. We go into the details how to find keywords what are not that competitive and how to setup your Amazon PPC campaigns.
How to do keyword research for Amazon FBA conclusion
As you can see doing keyword research is not that difficult. You just need to take the time to do it the right way and also use the best keyword research tools for Amazon FBA. These tools will save you a lot of time and money eventually. Let us know if you have any questions about starting an Amazon FBA business or doing keyword research.