If you are wondering how to sell on Amazon and how to do product research on Amazon then you are at the right place. In this blog post we are going to talk about the best product research tool for Amazon FBA. There are many options available. Let's talk about one of the most popular one. 
One of the most important things you need to get right when starting your Amazon FBA business is to find the right product for your Amazon FBA business. There are many tools that help you find it but one of the best Amazon product research tools we have used is Helium10. The main benefits when using Helium10 is that it comes with many other things. Looks like nowadays the product research tool industry is getting more competitive and everyone wants to make the best product research tool for Amazon and it's really good for Amazon sellers because we get more value from these tools. Few years ago there were only a few product research tools to choose from.  
We are using Helium10 everyday in our business and we are very happy with it. We'll never recommend anything on our site that we are not 100% sure of. 
Top reasons why Helium10 is one of the best Amazon product research tools
We will cover every aspect of Helium10 and offer you a full overview of the software so you'll see why it's such a powerful tool and why people are using it. There are a couple of reasons we'd like to bring out separately why Helium10 really stands out from the rest.
Watch our Helium10 Google Chrome extension tutorial

It comes with a full Amazon training course created by Kevin King – Freedom Ticket. It's a 11 week online course that has over 50 hours of video lessons. It teaches you everything from the start: how to analyze product listings, how to find suppliers, how to do Amazon PPC etc. Few years ago the course price was $1500. Now you can get it with a Helium10 monthly fee. It's really a very good deal. Usually Amazon courses sell for $2000 and more.
Additional to that you will get updated Freedom Ticket course and Amazon PPC training. It really is one of the best deals out there today if not "the best deal".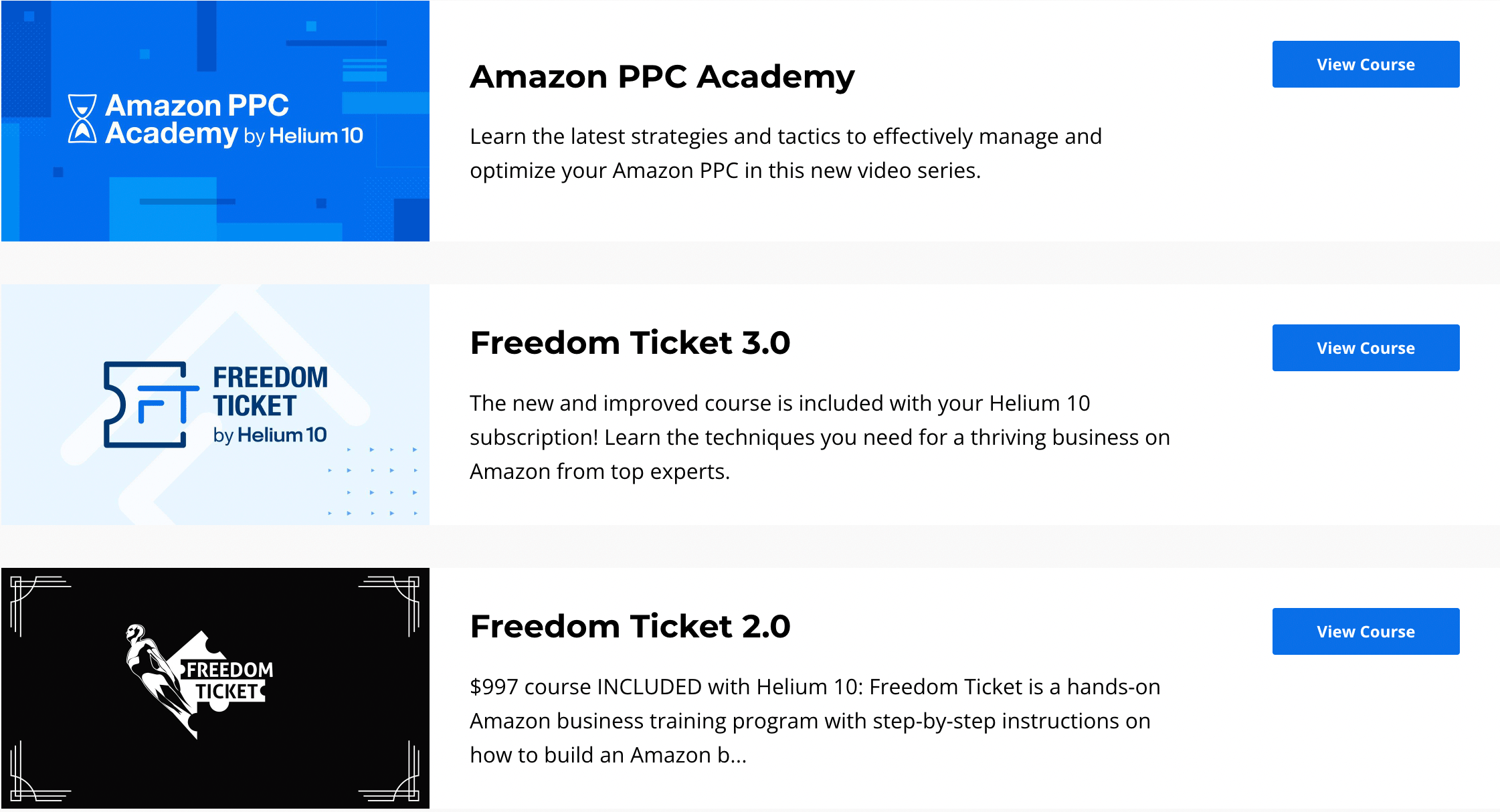 It has one of the best Amazon product research tools. It comes with Helium10 google chrome plugin with what you can scan Amazon pages and see for how much these products are selling for. This is probably going to be the main tool you use to find what products to sell on Amazon.
Third reason is that Helium10 software really comes with a lot of things. It has more than 10 tools with what you can launch, run and track your Amazon business. You don't need to pay separately for these. It's all included with the Platinum plan. I will cover all these tools in this blog post and give you a short overview.
Helium10 Google Chrome extension
This is going to be one of the main tools for your Amazon product research. With Helium10 google chrome extension you can scan Amazon pages and how much these products are selling on Amazon per month.
For example if we search "watermelon slicer" on Amazon then you can see right away how many sales are products getting, if it's seasonal, size tier on Amazon, number of reviews etc. Imagine if you could walk around in regular shopping centers and see how much sales are products generating just by looking at them. Wouldn't that be powerful? You can do that on Amazon and use that information for your product research.

Helium10 Black Box
Black Box is basically a robot inside Helium10 that helps you spot opportunities on Amazon. You can enter certain criteria's of what you'd like to search. For example:
Looking for a product that does at least $10 000- $20 000 in sales
Has less than 300 reviews
Price between $10 – $20
Has low review rating on Amazon (so we can improve it)
Is small size (cheaper to ship it)

After entering these things in the filters, Black Box gives you potential product ideas. You can also pick a category where Black Box looks for product ideas. It's a very powerful part of Helium10 and makes it one of the best tools for Amazon product research.
Helium10 Black Box tutorial video

Cerebo
With Cerebo you can see what are the main keywords for a product, where it's getting sales and how much search volume they have.

With this data you can analyze the product opportunity much better and see if you could also rank for these keywords on Amazon. For example if you see that the main keyword is watermelon slicer and products are ranking there with thousands of reviews then you are probably not going to rank there very well if you are just starting out. But you could also find smaller keywords. For example watermelon cutter and there might be an opportunity there if there aren't products with a lot of reviews and high ratings.
Note: This was just an example product. We are not saying that watermelon slicer is a good product to sell on Amazon.
Profitability calculator
With a profitability calculator you can calculate your profit margins if you'd sell that product on Amazon. You will see right away if the product has high or low profit margins. For that you also need to check your shipping cost per unit.
If you haven't checked your exact costs for the product then these numbers are estimates. Always double check the exact shipping cost to Amazon FBA and the manufacturing cost for your product before making the final product order. Amazon also has its own profitability calculator. See it here.
Magnet
Magnet is a keyword research tool that gives you keywords that are relevant to your search phrase. Then you can filter these with different options. For example keywords that contain 3 phrases, by search volume, competition etc. This is a good way to get more keyword ideas for your niche

Trendster
With Trendster you can see trends for specific products. You can also see price and sales history. This is very useful to understand if the product sells with lower price on certain seasons.

On the right you can also see google trends for specific keywords. This is also very important when you are doing your product research.You want to be sure that the product trend is not declining.
Misspellinator
Misspellinator helps you find misspelled keywords with what people are searching for on Amazon. This could be a very good way to find new keywords and get these sales yourself.
Adtomic
Adtomic comes with the Helium10 Diamond plan and helps optimize your Amazon PPC campaigns.
Amazon attribution
Amazon attribution helps you to analyze better traffic you send to your product listing. For example from Facebook or google ads.
Portals
With portals you can create landing pages for your products for sales promos, email opt-ins and more. It's a great way to engage more with your customers.
Scribbles
With Scribbles you can optimize your product listing and make sure you are using all the keywords from your keyword research. It's really a great way to make sure you are not missing out on any of your keywords.

Index checker
With a keyword index checker you can make sure you are indexing on Amazon search results.
Listing analyzer
Listing analyzer gives you a good overview of your competitors and their sales volumes.

It also shows how well they have optimised their product listings. See the image below.

Listing builder
Listing builder helps you build your Amazon product listing the right way. It helps you organize your keywords, bullet points and product description.
Audience
Audience gives you instant access to shoppers ready to answer your most burning questions: Is there a demand for this product? What colors and designs should I offer? Which imagery presents my product best? In just minutes, create a custom poll and receive detailed feedback to help you give your customers what they want.
Keyword tracker
With a keyword tracker you can track your Amazon product rankings for specific keywords.
Market tracker
With a market tracker you can track the entire market and then view the total sales, your market share etc.
Market tracker 360
This is an advanced option to track the entire market and spy on your competitors.
Profits
Helium10 Profits help you see your daily, monthly or yearly sales and profit.
Helium10 Freedom Ticket training
This is probably one of the main reasons why you should use Helium10 and why it stands out from other tools. Freedom Ticket is a full Amazon training by Kevin King that teaches you how to sell on Amazon. It's a 11 week course and has over 40h of video training. It's included with your monthly fee, so there's no extra fees for using that training. It's really one of the best Amazon FBA trainings out there.
Helium10 Academy
This teaches you how to use all Helium10 tools.
Alta by Helium10
This is a lending option through Helium10. You can access additional capital with few clicks.
Alerts
You can set up alerts for your Amazon account. For example when your inventory level drops or someone hijacks your listing.
Inventory protector
You can set max order quantities for your products.
Refund genie
Oftentimes Amazon loses our inventory and this tool helps us get reimbursements from Amazon.
Follow up
With follow up you can send automatic messages to your customers on Amazon and ask for feedback or product reviews.
Inventory management
Is a planning tool for your Amazon business so you can make sure your products are in stock at the right time.

As you can see there are many benefits when using Helium10. It's not just the best product research tool. It offers you a lot more that you don't get from anywhere else. You can start your Amazon business with Helium10 tools even if you have no ideas from where to start. It has a full training course with Kevin King. Few years ago the Freedom Ticket course cost between $1000-$2000 alone. So it's really a great deal put all together.
Best product research tool for Amazon FBA conclusion
If you have any questions about how to start an Amazon FBA business, product research, Helium10 or anything else. Then feel free to leave a comment below or send us a message. We are more than happy to help you out.