You probably found this blog post by first getting an idea that you'd like to start an Amazon FBA business but have no idea from where to start and what products to sell on Amazon. We know that feeling. We have been there many times. In this post we'll cover how to do product research on Amazon and get you moving in the right direction.
There are many things we are going to talk about but it's well worth your time reading. This will save you thousands of dollars if you are starting out and probably save you from making some big mistakes as well.
One of the first things you need before starting your product research is a good product research tool for Amazon FBA. We have written a separate post where we talk about the best product research tools for Amazon business. The tool we use ourselves and recommend for you as well is Helium10. If you don't have it already then you can get it here with a discount deal. 
When comparing products with different criterias there are few important things you need to analyse.
Number of reviews
Sales per month
Product rating
Number of competitors
Number of reviews gives you a good overview of how many long term sellers are on the market. If there are tens of sellers with more than thousand reviews then we'd recommend you to skip that niche.
It's good to have a niche where people are making ok sales with a few hundred reviews. For example multiple sellers with 100-300 reviews doing $20.000 a month in sales or even sellers with 50 reviews doing $10.000 a month in sales. 
Also a good thing is to target niches where products are with low ratings but still selling okay. Then there might be an opportunity to improve the product and get higher ratings yourself. These opportunities are not easy to find but they do exist.

What first seems like a good product to sell on Amazon might not be it once you calculate your landing cost on Amazon and final profit margins. You should target at least 30% of net profit margin when you sell your product on Amazon. Anything below that becomes risky. 
When you are calculating your profit margins on Amazon then don't forget to add the shipping cost. This could be a lot. What first might look like a good product might not be it once you know the final shipping cost.
It's very important to do that the right way because there are many other expenses when you are selling on Amazon in addition to the product price.
Amazon PPC (usually between 8%-15%)
Warehouse fees (depends on your product size and how much stock you have). This could be zero if you manage your inventory correctly and don't sell oversize items.
Amazon returns (Depends on category. Usually 2.5%-5% range)
With the sample on the image this would leave you with approx 20-25% net profit after all the expenses which is quite good. We'd recommend you to target that profit range.
Another important thing when we talk about how to do product research on Amazon is ordering product samples. This is crucial. Always order samples from different manufacturers so you can compare the product quality and also see how different suppliers communicate. Always go with the suppliers who are communicating nicely and getting back to you in time. You can usually see right away who really wants to work with you and who doesn't.
How to find small niches on Amazon?
When you are starting out then we recommend for you to find niches where the biggest keyword has a maximum of 5000-10000 search volume on Amazon. You can check different search volumes with Helium10 tools. With these smaller niches you can still generate a good amount of sales on Amazon. Usually there are many long tail keywords as well. 
Don't go for products where there are only 1-5 big keywords with 10 000 + search volume. They are probably very competitive and it is very hard to rank your products there.
Can you stand out with the main image?
This is also very-very important when looking for a product to sell on Amazon. Your main image is your first impression on Amazon. It needs to grab attention and stand out from the competitors. If you can't find a way to stand out then we'd recommend you to skip that niche. There must be something you can do or change to stand out. Make sure you also check our other post about how to take product images for Amazon?
You could try following things:
Create a nice looking box and add it to your main image
Create a nice looking label for your product
Display parts of your products on the main image
How to do product research with Helium10 Black Box
Helium10 BlackBox is a very powerful product research tool for Amazon FBA sellers. It really helps you to dig in the smaller niches and scan through thousands of products and find the right ones. It's basically a robot that scans products on Amazon according your instructions. For example find me following products:
Selling $10.000 a month
Has maximum of 100 reviews
Has maximum review score of 3.6
Wouldn't that be cool to use that feature and have Blackbox robot working for you every day? You can get Helium10 Black Box with their monthly subscription what really is a no brainer.
Watch our Helium10 Black Box tutorial video below
How to do product research with Helium10 Google Chrome Extension?
With Helium10 google chrome extension you can scan Amazon pages and see for how much are certain products selling for. This is a great way just to browse on Amazon and check for how much are products selling. See the image below for sample.

Double check if the product has any patents
Sometimes when you find a product that has a low number of reviews and is selling really well might have a patent. Always check that before deciding on a product. Check it yourself, ask from your supplier or get some professional help. You don't want to order a lot of products, ship them to the USA and then find out you can't sell it on Amazon.
Scan on Amazon and look for products
Another way to do product research is just by scanning Amazon categories, best seller list etc. and looking for product ideas.
Write down your product ideas
It's important that you write down your product ideas and create a list where there are at least 20 products before deciding for which product you are going for. Below is a sample of things you could compare when looking for a product: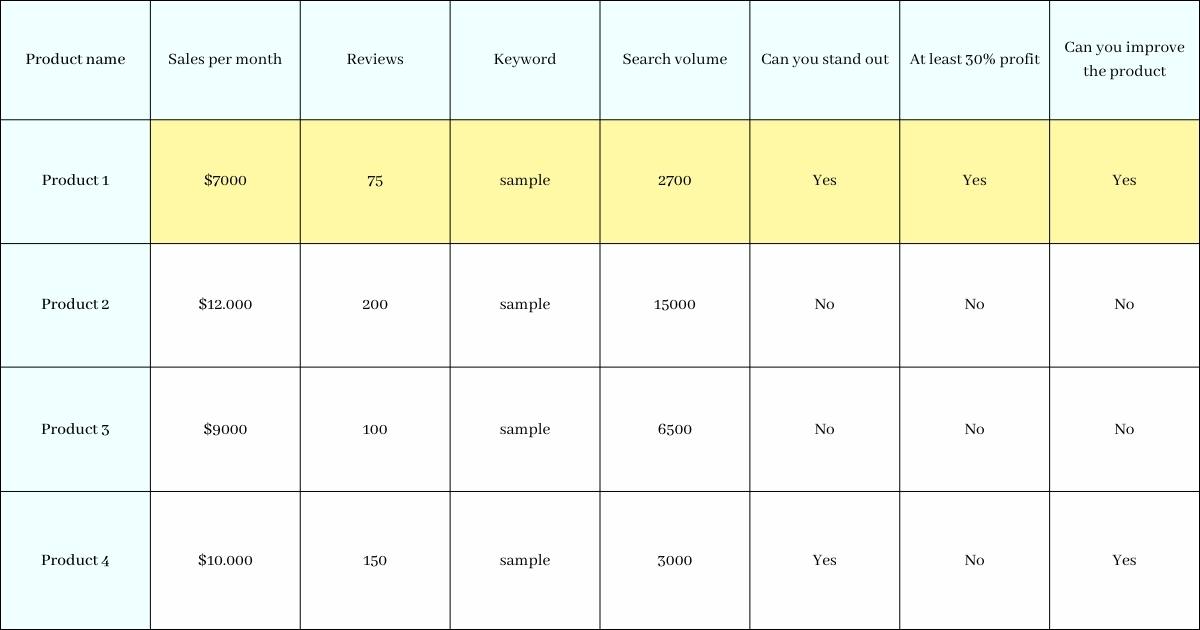 As you see from this sample then product 1 has the most potential even if it has the lowest amount of sales. That's the reason why you need to write down your product ideas and create a list where there are at least 20 product ideas or more. Eventually some products start to stand out and you'll find a product to sell on Amazon.
We'd recommend you to keep updating your product list all the time and have at least 100 products on that list.

How to do product research on Amazon Conclusion
We hope that you got enough value from this post and are now ready to start your Amazon journey. If you have any questions about how to do product research on Amazon then send us a message or comment below. We are here to help and want you to be successful on Amazon.