Selling on Amazon is one of the best things out there when you want to make money online and start your business. A lot of people leave the impression that selling on Amazon is very easy and everybody can do it. You might be wondering, is Amazon FBA still worth it? In this post we'll cover some details and stats that help you make up your mind about selling on Amazon. 
Is Amazon FBA still worth it?
Yes, it is and there's multiple reasons for that. 
There's never been an easier way for regular everyday people who are just like you and me to connect our products to that size of an audience in human history. There's millions of shoppers on Amazon every year and you can place your product in front of them. 
Trick is that you just can't send a random product to Amazon and hope it starts selling. You need to do it the right way. We have written multiple posts about different topics that help you get started. For example: 
How to do product research on Amazon?
What products to sell on Amazon?
What's the best product research tool for Amazon FBA?
What are Amazon FBA business setup costs?
How to start an Amazon FBA business?
After reading this post, be sure to have a look at these as well so you can make up your mind and then finally decide if Amazon FBA business model is for you or not. If you have any questions about Amazon FBA then feel free to send us a message. We are here to help!
Now let's dive into the statistics…
Amazon has been growing like wildfire
When Amazon started out it was struggling like many other businesses when starting out. But in the recent 10 years they have been growing like wildfire and especially in the past three years.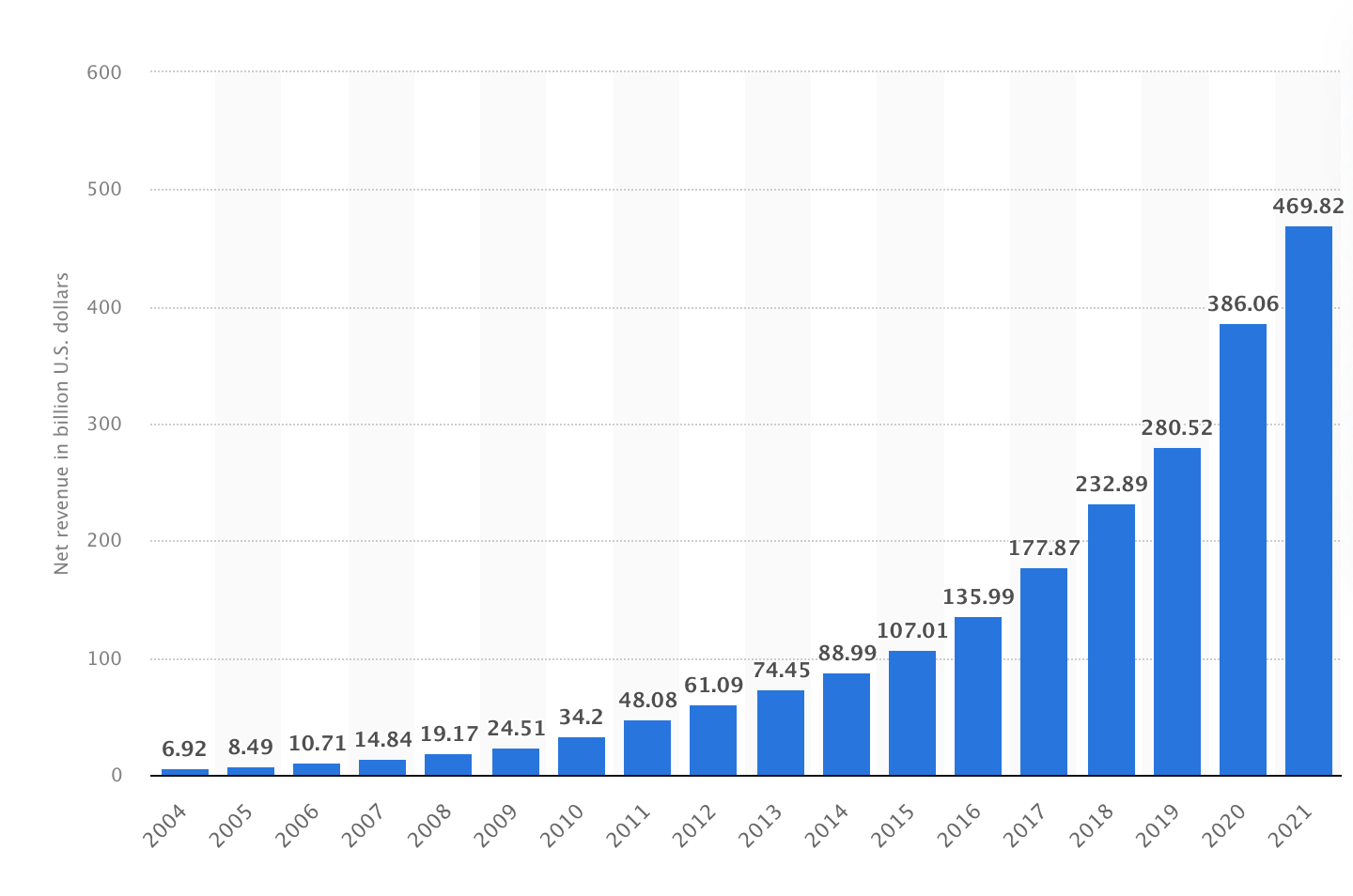 There's over 200 million Amazon Prime members
Yes, there's over 200 million Amazon Prime members. Amazon Prime launched in 2005 and offers additional benefits to its members. It's not just free fast shipping. Now Amazon Prime comes with free two-day delivery, streaming videos, music, ebooks, gaming and shopping service. Average Amazon Prime member spends over $1000 a year on Amazon!
What is Amazon FBA?
Amazon FBA means fulfilled by Amazon. We order products and send them to Amazon FBA warehouse. When a customer places an order then it gets shipped out automatically. This way you could sell thousands of items a day. All you have to do is find the products, design and ship them to Amazon. Sounds simple and easy? It's not, but it's doable with the right strategy and gameplan. 
Amazon has the highest conversion rates
Average conversion rate on Amazon is between 10%-15%. I know from our own products it has been even 40% on some occasions. That's almost 10 times higher than on other ecommerce sites. Their conversion rate is between 2,5%-3%.
Is it easy to make money on Amazon?
No, it's not easy to make money on Amazon and it's more competitive than ever before. Like everything else in this world. But is Amazon FBA still worth it? Yes, it is. Nowadays you can't send a random products to Amazon and hope it makes sales and is profitable. You need to do your homework really well before you start selling on Amazon. This is exactly why we started Guidelinehub. To help you start selling on Amazon and make sure you have all the information needed before starting out. 
How much money Amazon sellers make?
About 50% of Amazon sellers make between $1000 – $25.000 a month in sales and some sellers make more than $100.000 in sales. Of course not all sellers on Amazon make these sales and even when they make these numbers, doesn't mean they are making profit as well. 
How much profit Amazon sellers make?
One thing is sales on Amazon and another thing is profit. Most sellers on Amazon make 10% to 25% profit on their sales. Most businesses are not profitable when starting out. When you are starting your Amazon business then there's a big chance that you are not profitable in your first year because you need to reinvest your money back into your business. 
How do I learn how to sell on Amazon?
Some people start selling on Amazon just by following a trial and error strategy. Is it effective? It might be for some people but if you do that then be ready to make some expensive mistakes. The best way to learn how to sell on Amazon is following someone who has already done it successfully. There's also multiple online courses available that teach you how to sell on Amazon as well. Some of these courses are really good and really give you an edge when you are starting out. One of the best courses and programs you can follow is Freedom Ticket which comes with Helium10 monthly plan. If you haven't checked it out yet then click the link to grab a discount. 

What's the best Amazon FBA course?
The course where we have learned the most is Freedom Ticket by Helium10. It's a 11 week Amazon course with over 50 hours of video training. We have written a separate post about Helium10 software and their product research tool. It's really the best information out there if you compare the price and value of what you get. It's a no brainer. 
For example we have been using their software for over 2 years and in 2022 summer Prime Day we did over $70.000 in sales in 4 days. That's actually more than we did on our first year selling on Amazon. With Amazon FBA you can really scale up your business and do numbers that are very hard to reach anywhere else. 
This didn't happen overnight. We have been selling with that account for a few years and this happened on Amazon Prime Day. We could have sold even more but we stopped our Prime Day deals to prevent going out of stock.
Amazon FBA tips
Below are some simple but powerful Amazon FBA tips that help you get started selling on Amazon and make sure you don't choose the wrong products to sell on Amazon.
Start with less competitive products (maximum of 300 reviews)
Go for $10 to $25 priced products
Use the right product research tool to find what products to sell on Amazon
Expand to new markets after you have confirmed that you product is selling
Learn from someone who has done
The right mindset for Amazon FBA Business
When you are looking for online business ideas then mostly you find success stories and that leaves an impression that it's easy and everyone can do it. Is it so? Do most people succeed when they start a business? Not just Amazon FBA business but any business. Probably not. Why is that?
People usually fail because of the following reasons:
They are just swinging it and not taking it seriously
For most people selling on Amazon means that they ship their products to Amazon and that's it. They've made it. Not true! That's when the real work begins. You might be one of the lucky ones that your product starts selling right away but what do you do if it doesn't? Are you willing to do the extra work?
They give up to soon
For most sellers it takes more than one product to succeed on Amazon. If you look at the statistics then you probably need to launch more than one product to find the winning product on Amazon.
They don't plan their financials
Running out of money when trying to build your Amazon FBA business is common mistake for Amazon sellers. You need to plan your cashflow the right way when selling on Amazon.
They don't seek for help and try to do it all themselves
Don't be a smart ass and try do it all yourself. Reach out to some of the bigger sellers and ask for help. You'd be surprised. There's actually a lot of nice people out there who'd help you for free.
They don't take the extra step to really push their products on Amazon
If your product is not selling on Amazon then you need to do everything you can to push the sales. Have you done it? It could even be cold emailing random blogs, shops, companies that are relevant to your nice and introduce your product to them.
When you start selling on Amazon then really make it a commitment to learn and grown with your business at the same time. Reach out to the right people who could help you.

Is Amazon FBA still worth it conclusion
We know that starting something and getting the ball moving is the most difficult part in any business you start. Mostly because in order to start something completely new, where you have no experience at all, it's very hard and risky. Is your Amazon business success guaranteed 100%? No, unfortunately not. Nobody can guarantee it. But what you can do is take the matters into your own hands and do everything you can to make it succeed. That's exactly why we have started Guidelinehub! To share free information with you that helps you succeed selling on Amazon. 
If you have any questions about how to sell on Amazon then leave a comment below or send us a message. We're more than happy to help you out.